Finally, you're thinking of buying a new TV. With the ever-changing technology, there are hundreds of TVs out there with so many options to choose from. How do you know which one's the right one for you?
Choosing the right TV may seem a very simple thing. But wait till you get to actually buying one, you'll realize soon enough that putting one in your shopping cart can prove to be a difficult task with all the choices out there.
We've tried to take the guess-work out of having to figure out what things you need to consider in choosing your next TV with tools for simple TV comparison.
Biggest TV for my money
Most of the time, the first thing we do set before we decide on a purchase is the budget.
Ask yourself, "How much am I willing to spend?". It's not something set on stone as there are times when we do spend more than what was "decided on" before we were sold by a sales pitch of a very eager consumer "assistant".
Realize that there are a lot of less pricey TVs out there with top features and that perform well.
With LED TVs getting better and better every year, there's no need to splurge on new technology TV which may not really spell much difference next year.
Save yourself from the regret of having gone overboard by setting a budget range.
TV's leg/stand width database – over 300 Tv's
Now that you've set your budget range, you can now focus on other considerations.
For one thing, if you're buying to set it up with your current home theater center it is important that it would fit perfectly.
For this, you will have to know the dimensions of your current set-up to save you the trip of returning the new TV for one that's just the right size.
We measured over 300 tv stands so you can easily choose the one that fits your entertainment center. Find the right one:
Screen Size vs Room size – choose the biggest TV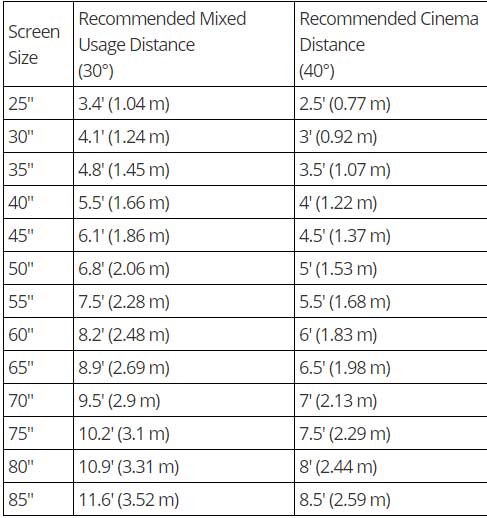 Tv Viewing Distance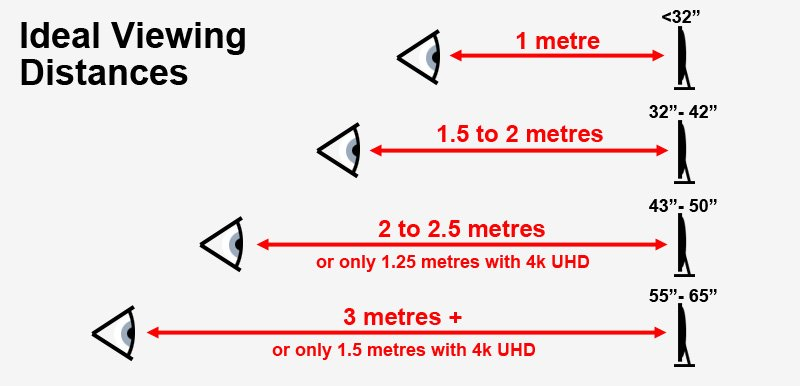 If you're setting up for an entirely new home entertainment center, consider going for the big 50-inch to 65-inch screen. Or go even bigger for spacious family rooms or if you're setting it up where you would be watching it from a distance away.
While there are no set rules for determining the right size – there are some guidelines you can follow to get the most out of your TV.
Tv size versus room lenght
Use our simple tool to help you in determining TV Size depending on viewing distance. This tool also shows the TV resolution options that are perfect for your sitting distance.
To maintain the maximum field of view- that is, be able to catch all the action on screen, one has to consider the recommended viewing distance for the resolution type to come up with the right TV that will give you maximum viewing pleasure.
Although big sizes may be the preference for most, take note that it may not always be better. bear in mind that our field of view is measured at 120 degrees.
So there's really no benefit in getting a very big TV for a small room since you won't be able to see all the action if half of the screen falls out of that field of vision.
The suggested distance the closest you can sit from your TV with a 1080p resolution is suggested to be at least 1 to 1.5 times the diagonal measurement of the TV screen.
So if you want a big 75-inch screen, you'll need to be sitting between 75 to 112 inches away (or 6.25 to 9.4 feet).
Or you can compute in reverse if you want to arrive at a screen size- with a maximum sitting distance of 6 feet, divide by 1.5 equals 4 feet which converts to 48 inches.
This maximum *suggested distance for a 1080p screen is the minimum distance you need to be sitting at to enjoy the benefits of a 2160p or 4K Ultra High Definition TV of the same screen size.
You might want to consider too, that although a 4K gives much more detail up close, sitting too far away from a 4K UHD, you may notice that you won't see a significant difference between a 1080p from a 4K anymore. This is because there's a limit to what our eyes can perceive.
4K Ultra High Definition/UHD 2160p
For a truly immersive viewing experience with life-like details, it's great to get a big screen TV. But how different is a 1080p screen from a 2160p?
A  4K has 4 times higher resolution than a 1080p screen. It is densely packed with 8 million active pixels providing for a richer color palette that gives exceptional contrast and depth- making images come alive with details that's definitely breathtaking.
With a 4K UHD, you can sit as close as 1.5 times as the screen's diagonal size and really immerse yourself in the action and still see the whole picture.
And if you're more comfortable to be a bit farther away, make sure you're not too far back that you're missing out on the high definition details that you've paid for.
The recommended maximum distance is about 2.5 times the diagonal size of your screen.