For TV Width and Stand Width Ranges, select widths equal to or less than your entertainment center's corresponding measurements, since you can fit any TV width or stand/leg width equal to or less than the max widths.
Sometimes big TVs have small stands (like Sony's TVs), so don't miss out on seeing those too!
Look at the image for a visual understanding of calculator.
First, insert cabinet opening width and then stand width.
The calculator will show you the maximum tv size you can fit in your living room.
Find the right Tv size based on the viewing distance
For mixed usage, check our table below. You can choose a tv close to those measurements.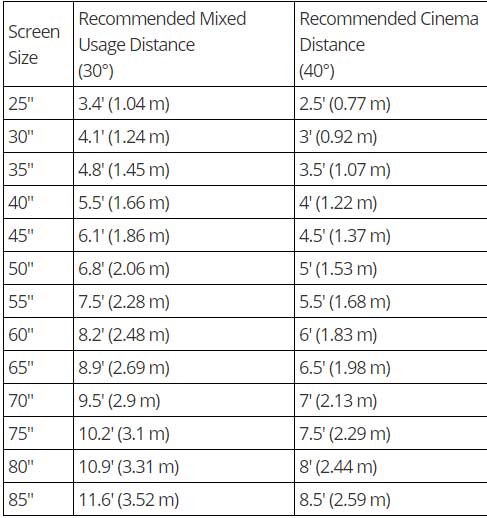 Also, you may use our tv viewing distance calculator to find the perfect screen size for your room.
Here you can find the minimum screen size for your viewing distance and some recommended values by THX standards.
Sometimes, THX standards will show bigger screen sizes because the measurements are made for watching movies.
For everyday use, choose a tv with an average screen size, somewhere between MIN and MID values shown in the calculator below.
MIN – minimum screen size for mixed usage ( movies, news, sport, tv shows)
MID – for mixed content FullHd or 4K
MAX – for watching 4K movies and sports.
Hint: Ultra HD 4K only makes sense if you want a really big screen and plan on sitting closer to it. If you're sitting  more then 7′ away from an 50-55 inch TV, your eyes won't be able to tell the difference between a 1080p or a 4K movie.