Samsung TV Reviews
Samsung TV reviews has shown, overall, that Samsung has great points when it comes to picture quality and sound for the size and at the price ranges they offer. They offer great versatility in usage.
Compared to other brands, Samsung TVs upscale low quality content very well. Its 4K UHD up-scaling automatically improves the picture quality and enhances details — giving better picture quality than similar popular models in the same price tier. It's low input lag, a feature found across its range of TVs, is great for gaming experience. It also offers a wealth of Smart apps for every streaming device. However, Samsung TVs do not handle judder as well as other brands even with higher-end models. Although the Samsung line shows good aesthetics, it's build— being that it's made of mostly plastic body, gives it less than stellar-quality.
The latest models have beefed up features to keep up with competition. An example is its MU7500 Curved 4K LED TV which is one of the best priced 4K TV in the marketplace today— in 49″, 55″, and 65″. The premium models definitely have bigger range of colors and contrast enhancer technology for brighter brights, deeper blacks, and whiter whites.
Best Samsung TVs from High to Budget Ranges
For 2018, the Samsung Q7F LED Smart TV leads the Samsung lineup. It is capable of covering 99% of DCI-P3 color gamut which gives strikingly rich images to HDR movies. Its low input lag and good handling of motion makes it good for sports and great for both standard and HDR gaming. Find it in 55″, 65″ and 75″.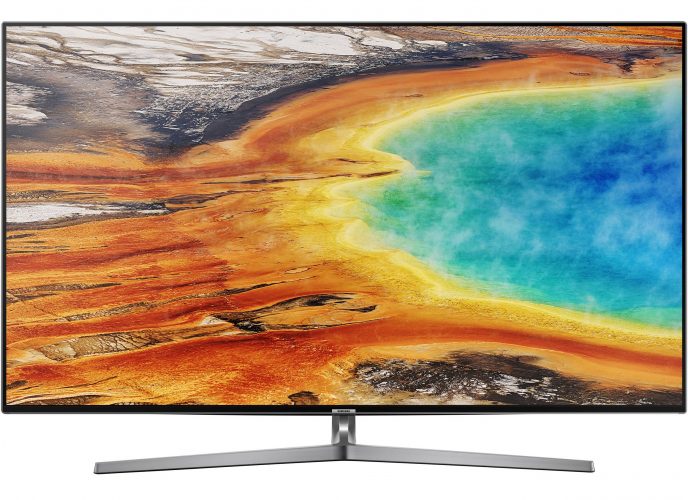 For the mid-range, the Samsung MU9000 4K LED TV leads with its picture quality and wide color gamut and 10 bits of color depth HDR features. It also handles reflections very well making it a very good choice for use in a brighter environment such as a well-lit living room. It also has low input lag that's a must for gaming. Find it 55″, 65″ and 75″ models.
If you're in a budget, the MU6300 4K TV is a decent buy. It has good picture quality and shares the low input lag found across the Samsung range of TVs. With good smart features, it's a good buy overall. Check out the 40″ and 43″ models
Other Features
Home Screen | Main User Interface
Get quick access to apps on the Home screen. You'll find downloaded apps in a toolbar shown on the Home Screen. Filter these according to types such as "Video", "Lifestyle" and "Games". Find this feature at the very bottom of the main page. With the extensive selection of apps available, you'll find the search function to be quite good and results come up fast.
Web Browser
The browser is one of the easiest to use and scores almost as well as Chrome in HTML5 compatibility test with a 522/555 score. Although a bit slow, performs fairly well. You can enter text via remote with the Voice Recognition feature.
Remote
The Samsung remote is basically the same, feature-wise. The craftsmanship of the remote that goes with premium QLED series is quite excellent. Its controls are simple and intuitive and it has a good and comfortable feel. The lower MU Series has a different shape and a plastic feel.
You may notice that Samsung remote controls do not have the expansive controls like the advanced playback buttons and number keys. This isn't much of a problem except for those who are using the TV tuner who might prefer to have a universal remote control (sold separately).
Voice Command
The Samsung Voice Command function has been overhauled for 2017 and works pretty well. Also, other smart interfaces for search function for content or apps and other change settings have been updated and are only a button press away.
Wi-Fi
Samsung has always had wi-fi issues when leaving the TV off for a time which will require setting up the connection again which can be bothersome. But this has become less common now. Also waiting for a few seconds more for confirmation of selection can sometimes be an issue making the overall experience a bit slow.
Conclusion
In our Samsung TV Review, it shows In general that Samsung TVs have more picturesque TVs and deliver good value for the money. There is always one to suit your needs within your budget.
Click the button below to see all: